Embracing Mother Divine With Aloha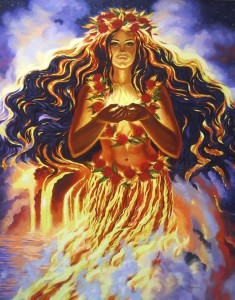 I recently had the opportunity to hold space and guide 17 beautiful souls on a transformational journey embracing Yoga & Ayurveda.
There were many things that we all learned and discovered deep from within, but what I think we took away most from our retreat and experience was how to feel and embrace the Divine Mother on this beautiful island.
In India the Divine Mother is recognized and worshiped in its many forms such as Sita, Durga, Kali, Saraswati, Laxshmi ect. In other traditions and cultures Mother Divine is seen and worshiped in forms such as Mother Nature & Mother Earth.
You see the Mother or the feminine aspect is that which looks after us, cares unconditionally for its children and grants its children what is asked for or needed.
Our experience on the Big Island of Hawaii was exactly that. We were nurtured, cared for and provided with an abundance of wisdom, knowledge, food and gifts offered by the locals and the island itself.
We emerged renewed, restored, revitalized and rejuvenated. But, you have to be ready and open for this experience, surrendering it all to the great Mother Divine. In Hawaii, she is known as Pele.
It all started our first night when a great feminine native Kahuna Nui Ehulani – a beautiful and wise lady shared the knowledge and history of the Hawaiian Islands and its traditions. With her hula dancers re-enacting Pele's dramatic events, and her Hawaiian chants and blessings, we were asked to surrender to Her and let Her take away from us what no longer served us.
We were introduced to the meaning and feeling of ALOHA…
A for ala – meaning watchful, alertness, presence
L for lokahi – meaning working with unity
O for oia'i'o – meaning truthfulness & honesty
H for ha'aha'a – meaning to be humble
A for ahonui –meaning to have patience & perseverance
Another translation of Aloha we learned was this…
Aloha is being a part of all, and all being a part of me. When there is pain, it is my pain. When there is joy, it is my joy. I respect all that is as part of the Creator and part of me. I will not willfully harm anyone or anything. When food is needed I will take only my need and share with others. The earth, the sky, the sea are mine to care for, to cherish and to protect.
We learned many similarities between Yoga and the ancient Hawaiian culture. Mana for example is similar to Prana – it our life force and has a spiritual influence. It connects to breathing and being in the present moment. Awareness of your breath and deep breathing increases Mana.
We increased our Mana through consuming the local fresh organic food – fruits and vegetables as well as being immersed in the 5 elements of nature – The Earth of the Volcanic Rock, The Water of the Sea, The Fire of The Sun, The Air of the Ocean Breeze and of course the Ether, the space itself where we were all nurtured and nourished.
Our Kuhna and many others spoke of this high vibration currently resonating on the island – with Dolphins and Whales swimming and performing daily very close to our beach. It was a spectacular event to see. But, we were also warned that not everyone may be able to handle this high vibrational energy opening and charging the HEART Chakra.
There were lots of breakdowns, openings and transformations. Our energy centers did open and we all had our own exhilarating and unique experience.
We had many synchronicities and were open to the gifts which were offered such as live Kirtan singing, bathing in hot lava ponds, chanting beeja mantras in Pele's natural steam caves – just to name a few.
All in all it was a life changing experience – learning and practicing yoga & Ayurveda daily, taking in the Soma, building our Ojas and embracing Mother Divine and her gifts on this extraordinary Island.
Thank you to all who attended. I am truly grateful. Peace.